Prepare for the New Hubert Digital Experience Coming September 22 – 24, 2023
As we complete our merger between Hubert Financial and AcceleRate Financial, a database integration will take place over the weekend of September 22 – 24, 2023. With this integration, we will be upgrading your digital experience to a new platform.
A weekend integration is scheduled to reduce the impact on members' day-to-day transactions. We're working hard to minimize inconvenience to our members. However, there will be some impacts to you during conversion weekend.
Here's how to prepare for integration weekend and some key dates to keep in mind.
Service Disruptions

Online Banking
Online and mobile banking will be unavailable effective 5:00 p.m. CDT on Friday, September 22, and will come back online in the evening of Sunday, September 24.
After integration weekend, here's how Hubert members will access online banking from the happysavings.ca website:
Hubert Financial members will be mailed a unique Login ID number for first-time onboarding. At time of first login, you will be prompted to create a new username and password. If you have not received your login ID number by September 20, please reach out to us directly.
Note: If you already use online banking as an Access CU or AcceleRate member, you will continue to sign in as normal with those credentials and your Hubert accounts will be viewable on that login when service returns.
If you are a Sunova CU and Hubert Financial member with a Sunova debit card, that 16-digit number will be used for onboarding instead of a mailed login ID.
NEW USERNAME REQUIREMENTS:
Alphanumeric: Can include: Upper case, lower case, numbers, and special characters (dash -, underscore _)
Maximum of 34 characters
Cannot use the debit card number
Cannot use an email address
Must be unique (does not already exist for another user)
Note: Your username cannot be changed once selected! So make it a good one.
Members will need to validate against Date of Birth and Cell/Email on file and will be prompted to create their strong password (PAC) after One Time Passcode (OTP) validation*.
STRONG PAC REQUIRES:
10 to 34 characters
One Upper
One Lower
One number
Select your area code in the first box, and then enter the rest of the 10 digits in the next box. If you add +1 XXX XXX XXXX in the cell box, you will get an invalid phone number error, and not receive your One Time Passcode (OTP).
Error: [TokenPopUp:InvalidPhoneNumber]
On or after September 25, please contact us if you are having issues onboarding.
FEATURE CHANGES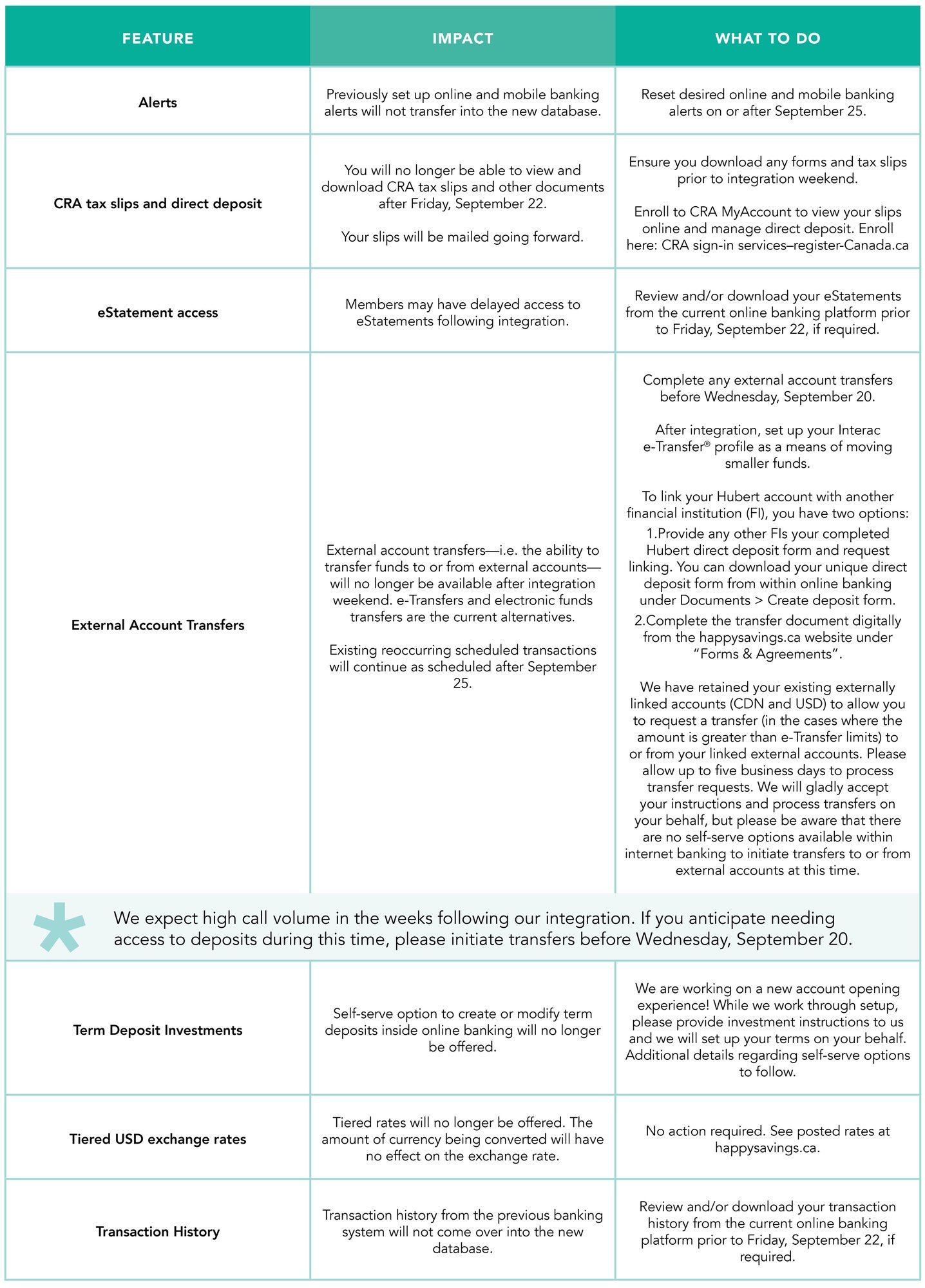 MOBILE BANKING
After integration weekend, members will access mobile banking from the Access Credit Union mobile app.
Why am I using an Access Credit Union mobile app?
Hubert Financial is a virtual division of Access Credit Union, so Hubert members get the benefits of using Access' online banking platform. The platform may have Access CU logos, but your Hubert products are clearly labeled!
Members will need to delete the Hubert Go Web app and download the Access mobile app.
Bank from anywhere with the Access CU app:
To add your Collabria credit card as a bill payee in Online Banking, search: SUNOVA MASTERCARD.
NEW FEATURES!
Free

Interac

e-Transfers®:

send and receive e-Transfers for free to/from your Hubert accounts.
Mobile deposit: take a picture on your cell phone to deposit cheques directly into your account (subject to standard holds)
14-day grace period

after renewals (just in case you want to make changes!).
Secure 2-Way Messaging:

send secure messages through desktop online banking or the mobile app.
Updated web experience: the

happysavings.ca website

is getting a makeover! All content and information will remain the same but with a new look and feel, easy navigation, and streamlined design.
Personalized experience:

select a profile image and background image on the app for a more personalized experience.
Favourite transactions:

save your most-popular transactions as favourites for ease of use.
Member to Member transfers:

do you know someone else with a Hubert account? Now you can easily transfer to another Hubert membership!
STATEMENTS
The information presented on your statement will be inclusive of all accounts in which you have an ownership role, including any joint accounts you may be part of. You will continue to receive your statement on a month-end cycle and have access to seven years of historical eStatements in the new online banking experience.
Final statement schedule:
September 1 – 22 (Last current statement)
September 23 – 30 (Your new Hubert statement)
If the interest rate on your current terms or savings accounts changes during the month, the revised rate may not appear on the second statement for September. Rest assured that you will not miss out on any interest! We'll make sure the past six months' worth of rate changes is available on the happysavings.ca website for easy reference going forward.
If you have dual membership (i.e. you are an Access and Sunova member, an AcceleRate and Sunova member, an Access and Hubert member, etc.) that receives any of your monthly statements via e-Statement, all of your account statements will be received via e-Statement only.
What will not change after the platform conversion?
The same amazing

personalized service.
Hubert Financial will remain

fee-free.
12-month Quarterly Redeemable GIC

products will still be available.
Service hours

will remain the same: Monday – Friday, 8:30 am – 6 pm.
Account numbers

will not change.
Account nicknames

named prior to integration will carry the nickname forward into the new system.
Member Support
Have questions about integration?
Contact us via phone at: 1-855-4HUBERT (1-855-448-2378)
Chat with us online at happysavings.ca
We appreciate your business; thanks for choosing Hubert for your happy savings. Please watch our website for more details.